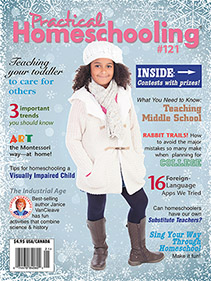 Subscribe now to receive this issue, with exciting articles like these:
Homeschooling worldwide - what's the story?

Empathy & giving - tips for teaching tots on up

How to homeschool middle school & high school

Singing & your homeschool

"Service blogging" - a great writing project for teens
On September 9, 2015 by
Mary Pride
With
0
Comments
This is an exciting time to homeschool. There is more help, more support, more resources, and more opportunities for homeschoolers than ever before!
Today's topic is "who you know" – in other words, where to get in touch with reliable help from veteran homeschoolers, as well as meeting others who have similar questions and needs.
MEET THE POSSE
Your state homeschool group not only defends your ongoing right to homeschool (very important!), but also typically offers a website with great "how to get started" resources and one or more large conferences yearly, where you can see new curriculum in person and meet the "movers and shakers" of homeschooling.
Local homeschool groups now include both traditional homeschool support groups and co-ops, as well as (often) local homeschool sports teams!
To find your state or local homeschool group, click here.
In addition, you can ask your questions online at the world's most popular Facebook page for homeschoolers here (yes, it's ours!) or our online forum. In our forum, you can also find neatly organized previous discussions on many helpful topics.
Glad to meet you, and I'll be seeing you online!
—Mary Pride, Publisher of Practical Homeschooling® magazine
PHS on Facebook!
We are often asked either what skills preschoolers should know or how to homeschool preschoolers. While we generally do not recommend any formal..
Our newest infographic!

http://ow.ly/Vdu3L