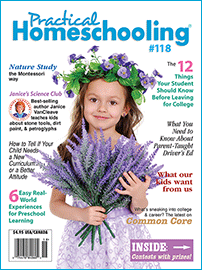 Subscribe now to receive this issue, with exciting articles like these:
How to use the real world as your preschool curriculum

Inside the heart of your child - how THEY want you to teach them

Answers to the toughest homeschool questions

College for homeschoolers? How to prepare

The Common Core/college & career connection
PHS on Facebook!
Have you visited & Liked our new "sister" Facebook page yet? It's designed to help you QUICKLY find out everything you need to know about homeschooling…
Christian parents: When your teens get to college, they'll be told that the Bible book of Genesis is just myths and fairy tales. This summer..