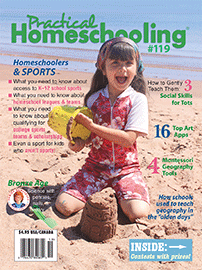 Subscribe now to receive this issue, with exciting articles like these:
"Can my child play on our public-school team?" What you need to know.

How your child can qualify to play on college sports teams - & win athletic scholarships

How to teach geography at home, the Montessori way

Volunteering: how our kids can make the most of it

Teach art the easy way, with these top apps!
PHS on Facebook!
Julie Dearie asked, "Right Start vs. Shiller vs. Math in Focus vs. Miquon vs. Saxon for a 7-year-old girl who struggles with math anxiety and..
Jo Anne Shelton asked, "Does anyone have good websites that show simple, fun science experiments for kids?"